Here's the details on our New Year's Gala.  Many of our 'Pilotos' arrived a week early so they could participate in the 'Posada' and Christmas activities in the village and at Hacienda de los Santos.  There's still room for a few more for New Year's so give us a call today at 888-777-0164 for reservations and space in the hangar.  Note, the per person rate includes all drinks for up to seven hours:), plus the six course dinner, entertainment and favors.
.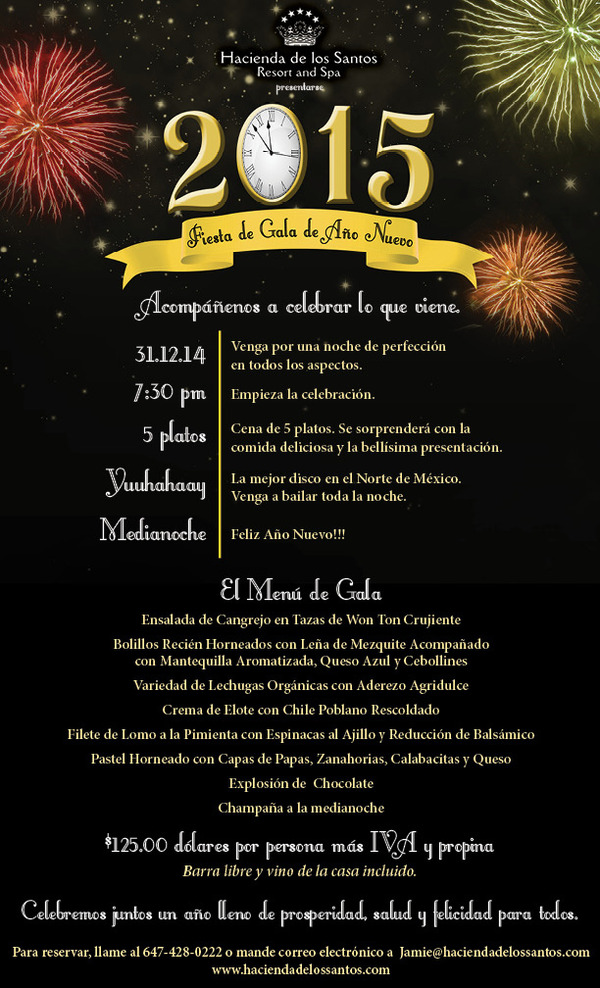 "New (this) Year", includes our new colonial building at the Sugar Mill which makes a wonderful backdrop for parties of up to 500 people, plus there are additional restroom facilities, a new air conditioned gym 'with a view', a large 'bodega' for our event equipment and a new private suite with four spanish balconies overlooking the 'hidden' arroyo.  Behind the scenes, a new walk-in freezer and complete high speed, high temp, dish washing unit was added to our kitchen operation.  How 'high' is high speed, well they indicate 1,200 plates an hour.  That should be enough capacity  for a remote resort in the beautiful Sierra Madre of Mexico.
.
Reducing our ever increasing utility bill is one of the challenges we have tackled during the past couple of years.  Now with state of the art exterior LED lighting we have had a professionally designed uplighting system installed on our dining and cantina areas, as well as on the entrance side of the resort.  We hope you enjoy seeing some of these improvements.   Also, all suites now have flat screen T.V.'s, Blu-ray players (DVD rental is complimentary) and the flat screens  range up to 60″ in size for your viewing pleasure.  By February 1st we will have cable  service at the resort for the suites with approximately 200 channels available.
.
Now, our wish list for 2015  is…………
.
Have a 'Happy New Year' and we hope to see you in 2015.
.
.
This entry was posted on Sunday, December 28th, 2014 at 6:43 pm and is filed under
Uncategorized
. You can follow any responses to this entry through the
RSS 2.0
feed. Both comments and pings are currently closed.